Perfect Binding: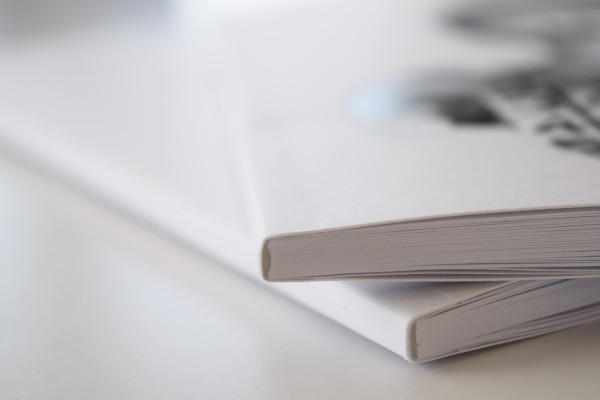 This type of binding is accomplished by grinding off approximately 3/16" off the binding edge of the sheet. This process exposes the paper fibers, which then are embedded into a hotmelt adhesive. The cover is attached inline. The binding edge with the coating of hotmelt adhesive is then adhered to the spine of the cover. It then sits for about 6-8 hours to cure. Finally, the book is cut by a 3-way knife trimmer for a "perfectly" bound soft-cover book.
Saddle-Stitching: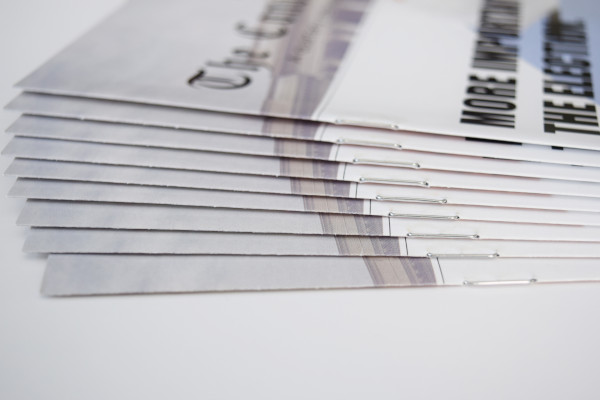 This type of binding is produced by mechanical stitching heads that force staples through the spine of the booklet. Saddle-stitching is the simplest and most inexpensive form of booklet binding. A great feature of this type of binding is that the pages lie flat and stay open for ease of reading. Products that often use saddle-stitching are magazines, program booklets and catalogs.
Plastic Coil Binding:

This type of binding is created by a series of small holes that are punched along the binding edge of a page. A plastic coil is inserted through the holes and then crimped at both ends to keep the pages from slipping off the coil. This type of binding allows the pages to lie flat and stay open for convenience. When designing booklets that use coil binding, it's important to allow for gutter (inner margin) along the binding edge so that text is not cut off by the punched holes.