Glossary Of Terms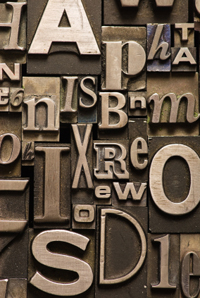 We take great pride in making our clients feel confident about their jobs during the production process. To help you gain a better understanding of what's happening to your project, we've compiled a glossary of terms that we commonly use in our industry.
A
B
C
D
E
F
G
H
I
L
M
O
P
R
S
T
V
W
Accordion Fold

A type of paper folding in which each fold runs in the opposite direction to the previous fold creating a pleated or accordion effect.

Achromatic

The non-colors... black, white and gray.

Alkali Blue

Also called reflex blue. A pigment used in carbon black inks and varnishes to improve luster.

Aqueous Plate

Water soluble plate coatings, which are less toxic and less polluting.

Art Paper

A paper evenly coated with a fine clay compound, which creates a hard smooth surface on one or both sides.

Assembled view

In illustration, a term used to describe a view of a drawing in its assembled or whole format.

Bearoff

The adjusting of spacing of type in order to correct the justification.

Binding

Various methods of securing folded sections together and or fastening them to a cover, to form single copies of a book.

Blanket

On offset presses a fabric-reinforced sheet of rubber to transfer the impression from the plate onto the paper.

Bleed

Extra ink area that crosses trim line, used to allow for variations that occur when the reproduction is trimmed or die-cut.

Body Size

The point size of a particular type character.

Buckram

A coarse sized cloth used in the bookbinding process.

Bulk

A term used to define the number of pages per inch of a book relative to its given basis weight.

Coated (Paper)

Paper coated with clay, white pigments and a binder. Better for printing because there is less picking.

Coated Stock

Any paper that has a mineral coating applied after the paper is made, giving the paper a smoother finish.

Collate

To gather sheets or signatures together in their correct order. (see Gather)

Collating Marks

Black step-marks printed on the back of folded sheets, to facilitate collating and checking of the sequence of book signatures.

Color Bars

This term refers to a color test strip, which is printed on the waste portion of a press sheet. It is a standardized (GATF-Graphic Arts Technical Foundation) process which allows a pressman to determine the quality of the printed material relative to ink density, registration, and dot gain. It also includes the Star Target, which is a similar system designed to detect inking problems.

Creep

When the rubber blanket on a cylinder moves forward due to contact with the plate or paper. Result of added thickness of folded sheets being behind one another in a folded signature. Outer edges of sheets creep away from back most fold as more folded sheets are inserted inside the middle.

Crop

To eliminate a portion of the art or copy as indicated by crop marks.

Crop Mark

Markings at edges of original or on guide sheet to indicate the area desired in reproduction with negative or plate trimmed (cropped) at the markings.

Crossover

A term used to describe the effect of ink from an image, rule or line art on one printed page, which carries over to another page of a bound work.

Diazo

A light sensitive coal tar product used as a coating on presensitized plates, as well as overlay proofs.

Die Cutting

A method of using sharp steel ruled stamps or rollers to cut various shapes i.e. labels, boxes, image shapes, either post press or in line. The process of cutting paper in a shape or design by the use of a wooden die or block in which are positioned steel rules in the shape of the desired pattern.

Dull Finish

Any matte finished paper.

Em

A unit of measurement equaling 12 points or 4.5mm.

English Finish

A grade of uncoated book paper with a smooth uniform surface.

Estimate

The form used by the printer to calculate the project for the print buyer. This form contains the basic parameters of the project including size, quantity, colors, bleeds, photos etc.

Etch

The process of producing an image on a plate by the use of acid.

Felt Finish

The smoother side of paper, usually a soft weave pattern used for book papers.

Film Coat

Also called wash coat; any thinly coated paper stock.

Flush Cover

A bound book or booklet etc. having the cover trimmed to the same size as the text.

Fugitive inks

Colors that lose tone and permanency when exposed to light.

Ganging

The bundling of two or more different printing projects on the same sheet of paper.

Ghosting

Image which appears as a lighter area on a subsequent print due to local blanket depressions from previous image areas on a letterpress rotary machine as well as on an offset press.

Grain

Direction of fibers in a sheet of paper governing paper properties such as increased size changes with relative humidity, across the grain, and better folding properties along the grain.

Gripper

A series of metal fingers that hold each sheet of paper as it passes through the various stages of the printing process.

Gutter

Space between pages in the printing frame of a book, or inside margin towards the back or binding edge. The blank space or margin between the type page and the binding of a book.

Hickies

Imperfections in presswork due to dirt on press, trapping errors, etc.

Hollow

That space on the spine of a case bound book between the block of the book and the case binding.

House Sheet

This is a term that refers to a paper that a printer keeps on hand in his shop.

Image Setter

High resolution, large format device for producing film from electronically generated page layouts.

Indicia

Markings pre-printed on mailing envelopes to replace the stamp.

Laid Finish

A parallel lined paper that has a handmade look.

Layout

A rendition that shows the placement of all the elements, roughs, thumbnails etc., of the final printed piece before it goes to print.

Margin

Imprinted space around edge of page.

Matte Finish

A coated paper finish that goes through minimal calendaring. Reference, calendaring.

Offset

The most commonly used printing method, whereby the printed material does not receive the ink directly from the printing plate but from an intermediary cylinder called a blanket which receives the ink from the plate and transfers it to the paper.

Opaque

A quality of paper that allows relatively little light to pass through.

Perfect Binding

Binding process where backs of sections are cut off, roughened and glued together, and rung in a cover.

Perforating

Punching small holes or slits in a sheet of paper or cardboard to facilitate tearing along a desired line.

Plate

Reproduction of type or cuts in metal, plastic, rubber, or other material, to form a plate bearing a relief, planographic or intaglio printing surface.

Press-Proof

Actual press sheet to show image, tone values and colors as well as imposition of frame or press-plate.

Process Printing

Printing from two or more half tones to produce intermediate colors and shades.

Proof

Impression from composed type or blocks, taken for checking and correction, from a lithographic plate to check accuracy of layout, type matter, tone and color reproduction.

Right Angle Fold

A term that denotes folds that are 90 degrees to each other.

Saddle Stitching

Stitching where the wire staples pass through the spine from the outside and are clinched in the center. Only used with folded sections, either single sections or two or more sections inset to form a single section.

Satin Finish

A smooth delicately embossed finished paper with sheen.

Score

Impressions or cuts in flat material to facilitate bending or tearing.

Sheetwise

The printing of two different images on two different sides of a sheet of paper by turning the page over after the first side is printed and using the same gripper and side guides.

Side Stitching

Stitching where the wire staples pass through the pile of sections or leaves gathered upon each other and are clinched on the underside.

Slitting

A term to describe the process of cutting of printed sheets by the cutting wheels of a printing press.

Spiral Bind

A binding whereby a wire or plastic is spiraled through holes punched along the binding side.

Stripping

Originally, the removal of the photographic emulsion with its image from individual negatives and combining them in position on a glass plate. Now the use of stripfilm materials, and the cutting, attachment, and other operations for assembling. The positioning of positives and negatives on the flat before proceeding to platemaking.

Tack

The adhesive quality of inks.

Trapping

The process of printing wet ink over printed ink which may be wet or dry.

Varnish

A clear shiny ink used to add gloss to printed pieces. The primary component of the ink vehicle. Reference, vehicle.

Vellum

A finish of paper that is rough, bulky and has a degree of tooth.

Web

The roll of paper that is used in web or rotary printing.

Web Press

Cylinder printing machine in which the paper is fed from a continuous reel, as opposed to sheet fed.